Lucky gift for New Year
New Year is the time for everyone to gather. According to traditional custom, on the first day of the Lunar New Year, adults and children are dressed up in new clothes, go to relatives and friends' house to congratulate on the occasion of New Year. And we cannot forget the red envelope which symbolize for good wishes of a healthy, successful and happy new year. AEON MALL Binh Tan will also give away a set of red envelopes to customers who go shopping at AEON MALL Binh Tan this Lunar New Year.
From February 1 to February 18, with every bill worth from 1,500,000 VND, customers will receive an exclusive set of red envelopes designed by AEON MALL Binh Tan.
Also, from 10/02 to 18/02/2018, customers will receive a scratch card with a chance to win 1 of 18 lucky gold coins. This is a special gift that AEON MALL Binh Tan send to all customers in the beginning of 2018.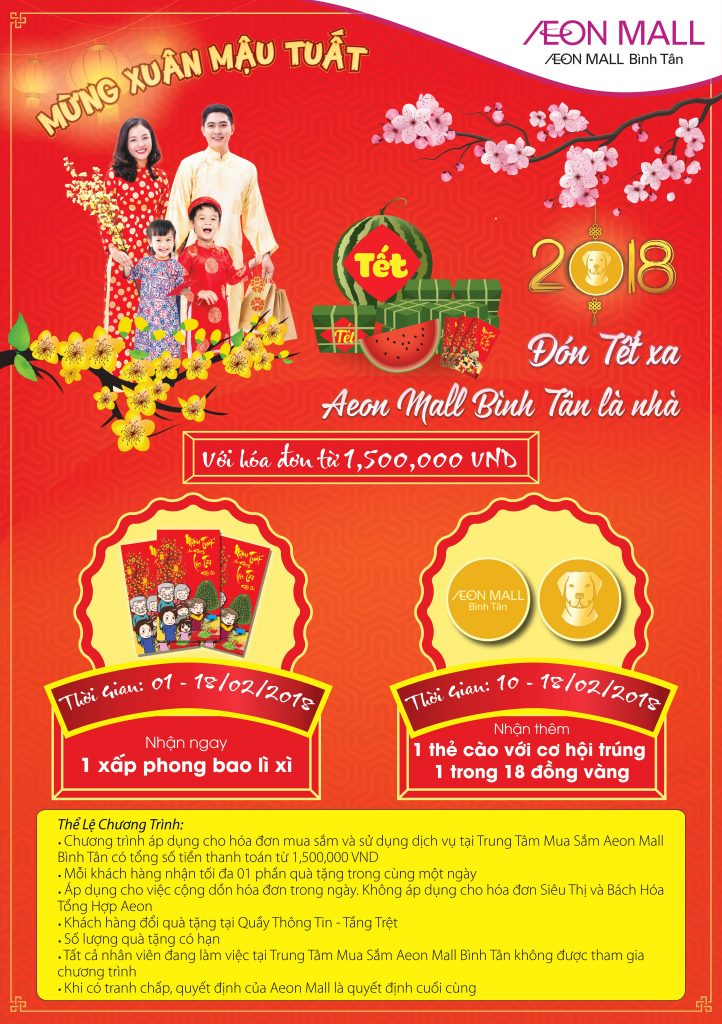 Fortunate calligraphy words
For a long time, the custom of asking and giving the fortunate calligraphy words has become a traditional cultural beauty indispensable in Lunar New Year. The soft, flexible lines contain the desire for a lucky and peaceful new year.
At the Cosme Court from 17:00 to 21:00 every day from 10/02 to 18/02/2018 (On 15/02/2018, the activity will end at 19:00), customers will have the opportunity to ask calligraphy words directly from the "master" the lucky words for New Year.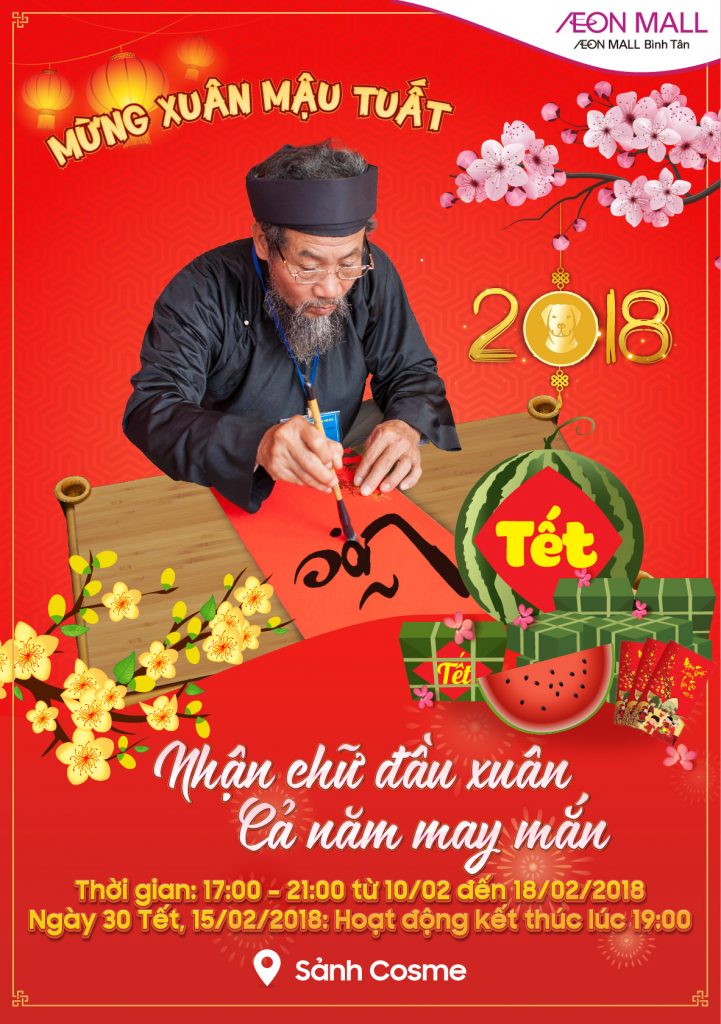 Traditional games
Nowadays, the development of technology has driven kids far away from the tradition games. However, parents don't have to be worried because AEON MALL Binh Tan will prepare a special playground with many traditional games: mandarin square capturing, golden bell smashing, stilt walking… at East court from 19/02 to 25/02/2018.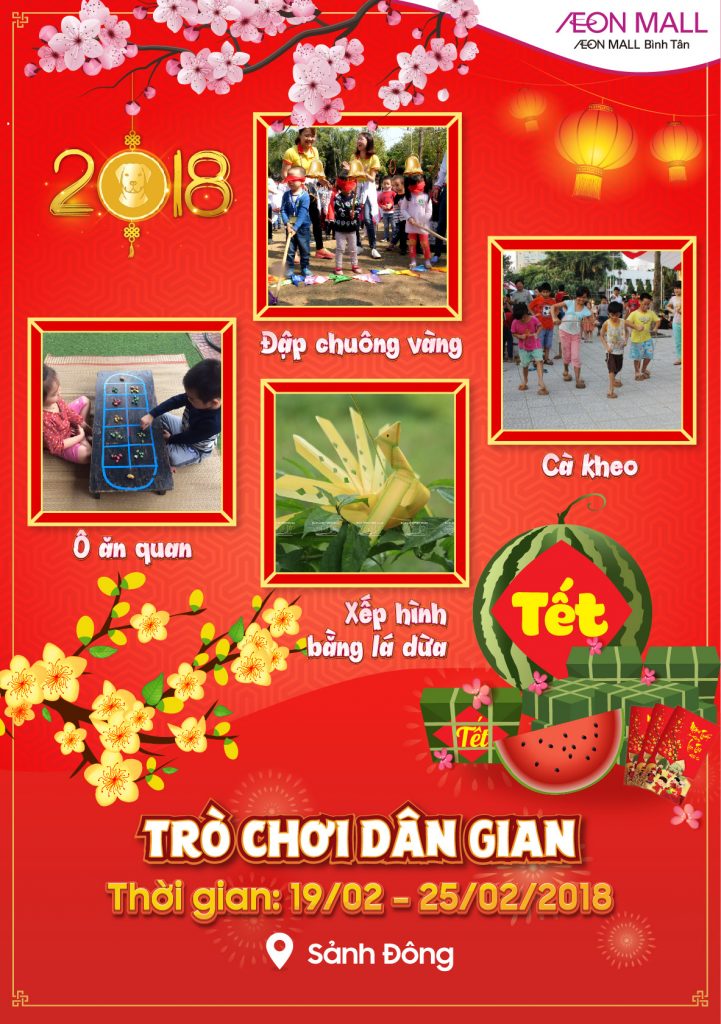 Greeting a new year with Lion Dance performance
On the first day of the Lunar New Year, do you have any plans for a trip to start a year filled with joy and good luck? If you are still wondering, let's join the activity "Spring Festival" at AEON MALL Binh Tan with a special Lion Dance performance at 18h30 on 16/02/2018 at East Court.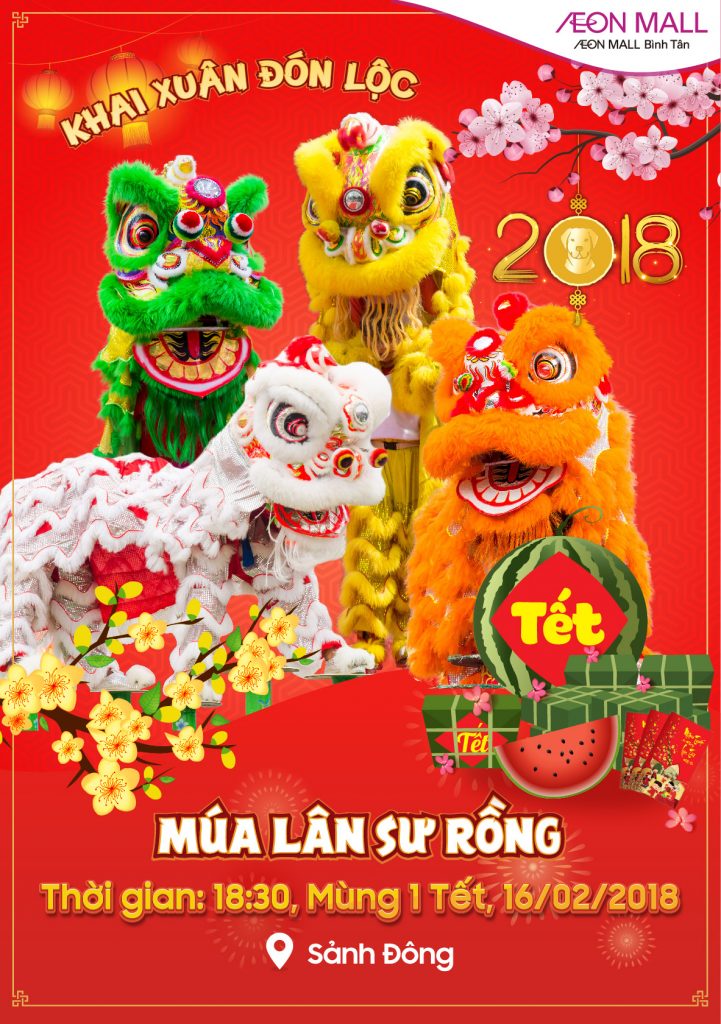 Special spring performances
And the New Year activities at AEON MALL Binh Tan will continue with many special and exciting performances.
At 18:30 on 17/02/2018 – the second day of Lunar New Year, the dance performance and acoustic songs brought to you by talented artists; and lots of smile and laugh with Le Kham comedian crew.
The magician ZIB will make all the audiences go from surprise to surprise with a magic show full of surprise!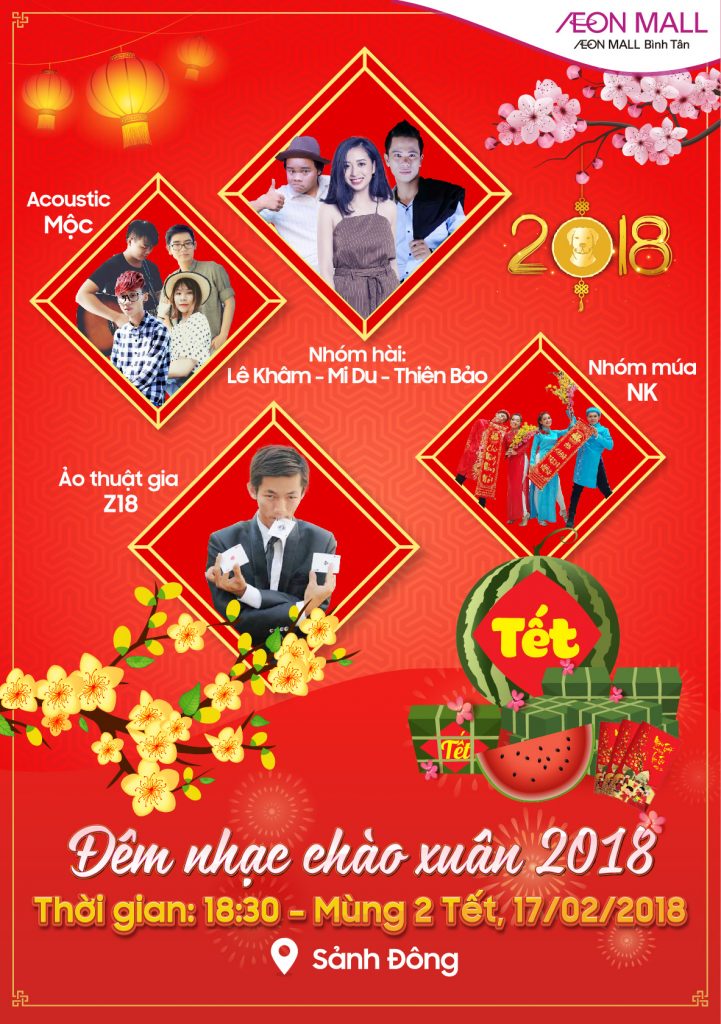 So what are you waiting for? Let's plan your schedule to welcome the year of dog 2018 with AEON MALL Binh Tan!