– What is your current position and mission at AEON MALL?
Currently, I'm an Admin and Training Executive in AEON MALL Binh Tan. My main job is to arrange and assign the task list to manage internal documents as well as the support tenants operate smoothly. In Training field, I'm responsible for planning contents and training systems, schedule testing sessions and importantly, encourage tenants' staffs during and after training course to ensure the training standard.
– For you, what is the charming of working at AEON MALL?
AEON MALL Vietnam is a dynamic and challenging environment. At AEON MALL, it is never enough for learning and cultivating knowledge and experience. I've learnt from colleagues, from higher management level and even from customers.
– What was your biggest job or impressive work that you worked on until now?
The results that I am satisfied the most is when my team prepared for the opening of AEON MALL Binh Tan. I was assigned to be in charge of training for tenants' staffs the regulations as well as the attitude to serve customers. At that time, I felt the pressure with such tasks, but with the support and teamwork of all the members, I managed to plan, arrange for the class and achieved the results: 95% staffs from tenants have knowledge and follow the standards to serve and take care of customers even in very busy and crowded grand opening day.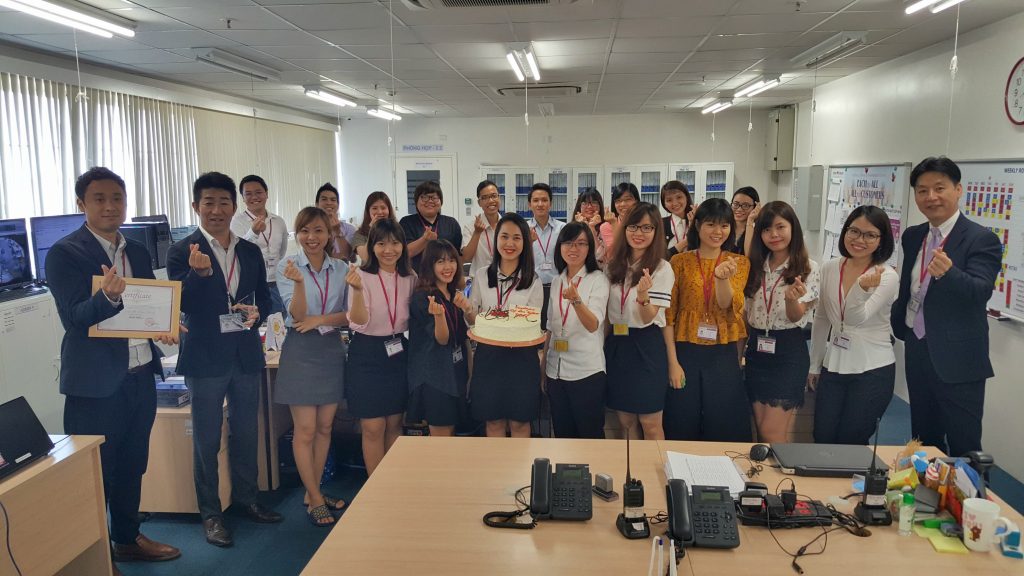 – What are you particularly conscious of doing your job?
I'm very fond of the action slogans which are set out every year showing company's different strategy each year. Therefore, I have to set up my own goals individually to fit the company's strategy as well as the actual work. Besides, building good relationship with partners, customers and planning are also advantages to support my job.
– How do you want AEON MALL to develop further and grow in the future?
With the clear strategy and plan, I think the brand AEONMALL Vietnam will be expanded more widely, and the company will develop not only in quantity but also in quality.